Here you can customize email templates for automatic system responses. You can make your own templates using system variables that will add a professional touch to your emails.
Go to
Settings -> Customize -> Custom Emails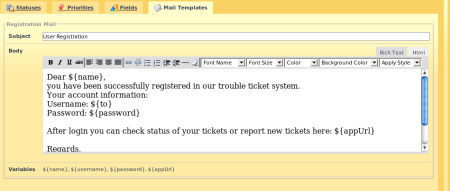 Under the text windows there are listed possible variables. Using this variables you can fully customize your emails.
This emails are used by SupportCenter software for automatic responses.
There are some predefined templates, but it is up to you whether to use the predefined or create your own.
List of templates:
User registration mail - mail which is sent after user account was created in SupportCenter (e.g. if new user sent new ticket to SupportCenter or registered manually)

Request new password mail - mail to reply for request of new password after any user forgot the current one
HTML mail template - you can add your header and company signature to every email you are sending out from SupportCenter (HTML version of mails)

text mail template - the same as HTML only the template is for emails sent like plain text and not like html