The Affiliate Sale Tracking Codes feature enables the affiliates to use their own tracking codes for sales (or to have any code executed once they refer a sale). You can activate this feature in your merchant panel Start->Features->Affiliate Sale Tracking Codes and after this feature is activated, the affiliates can specify some action tracking codes in Promotion -> Campaigns -> Action 'Edit Tracking codes' (the pencil icon). These codes need to be valid javascript codes or a call-back URL.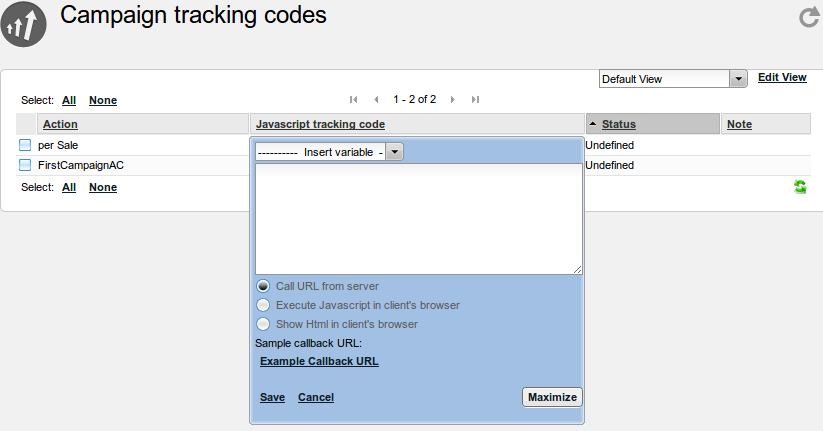 Each tracking code has to be approved by the merchant (Affiliates -> Affiliate tracking codes) before it is used. After a referred sale the approved code is executed in the thank you page.
Warning: Affiliate tracking codes may damage your thank you page. Approve them only after good consideration.
Note:
For version 4.9.5.4 and older, this feature can be used
only with the JavaScript version of
sale tracking code
.
It also disables offline transaction processing (cron job processing of visits), so all sales/leads (and clicks connected with these sales/leads) will be tracked online (immediately, not postponed) which may slow down your site performance in case you have a heavy-traffic site.
Note 2: This feature is NOT available for customers with hosted accounts of Post Affiliate Pro or Post Affiliate Network on postaffilatepro.com
If you have the Split Commissions feature active, the custom 'Affiliate Sale Tracking Code' will be executed only concerning the last referring affiliate.
Example Scenario:
There is a merchant having numerous affiliates. And e.g. there are affiliates "G" and "Y", who would like to track the sales made through their link/banner placed on their site on their own (so that it is forwarded to kind of their own script), so right at the time when a sale referred by them is accomplished a code would be executed towards them in the form of a 'hidden pixel', 'JavaScript' or 'call-back url'.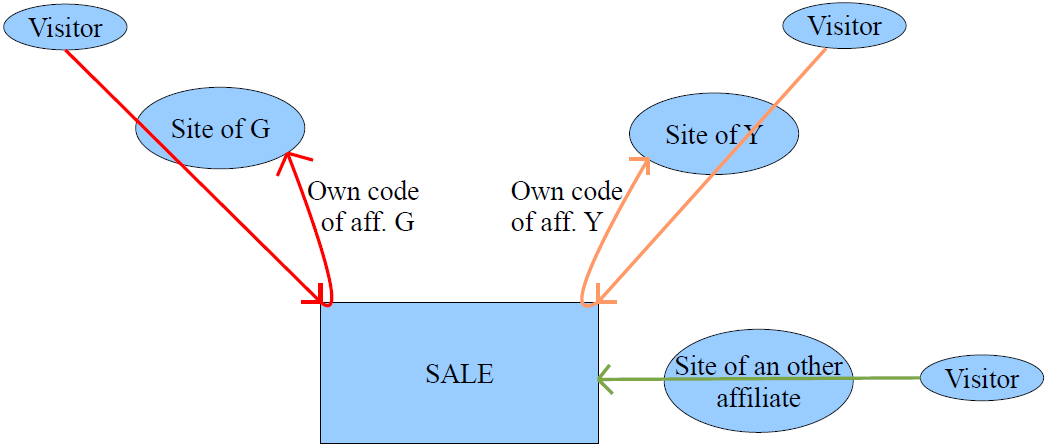 Available variables in the Affiliate Sale Tracking Codes: