Campaigns are used to specify different types or different levels of commissions.
For example, you can have Campaign 1, where you'll reward your affiliates per click, and another Campaign 2, where affiliates receive commissions per sale.

Or you can have a campaign called Low cost products, which will have 15% per sale commissions, and another campaign called Expensive products with 30% per sale commission.
If you have only one product, or the same commissions for all products, you may need only one campaign.
One default campaign is already created during the installation. You can modify it, or create your own campaigns.
You can manage your campaigns in your merchant panel in Campaigns -> Campaigns manager.
There you'll see the list of all the defined campaigns, and you can edit/add/delete them.


When you create or edit a campaign, you can edit it's details in the Edit details tab.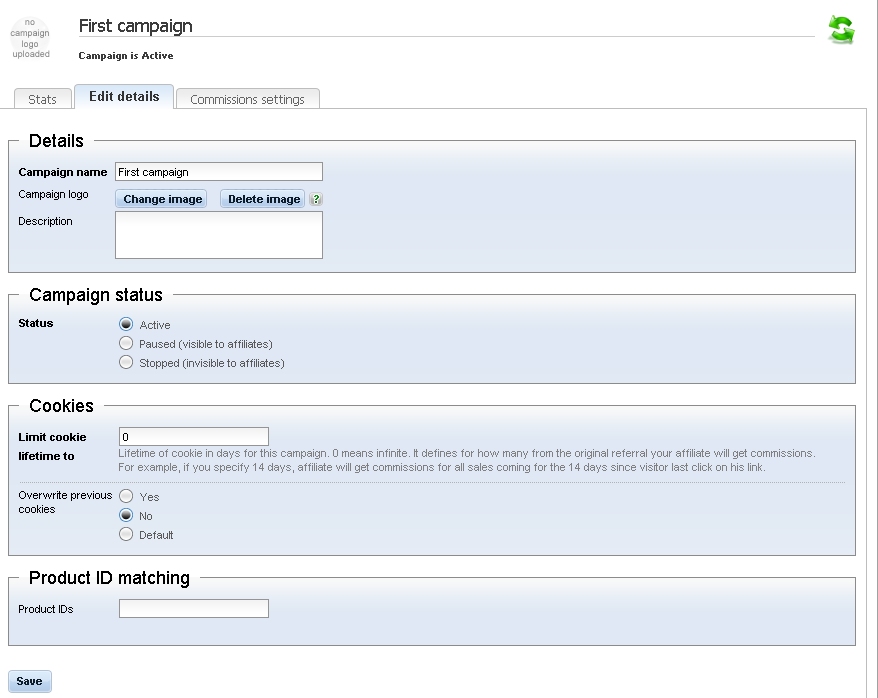 The tab Commission settings is where you can specify the desired commissions.


Commission types that can be set in a campaign
(not all of them may be available to you, depending on your edition of Post Affiliate Pro).
Per Sale
most common commission type. You'll reward your affiliate when he refers a sale. The commission can be either a flast commission (e.g. $10) or kind of a percentage commission (e.g. % 5) that will be calculated of the tracked purchase cost.
Per Action
this is a special commission type that is supported by PAP Professional edition. It allows you to create commission for anything: sale, filling a form, downloading something from your site, or ending up at a particular page.
It means that you can reward your affiliates whenever a visitor referred by them performs some defined action.

Per Lead (can be defined as Per Action commission)
is just a special case of Per Action or Per Sale commission type. It is almost all the same as a Per Sale commission, though here you don't pay for a sale, but for a lead, where a lead can be for example when a visitor fills in a form on your site with his information, or joins your membership site.

Per Click
you'll reward your affiliate everytime somebody clicks on your banner / link placed on the affiliate's website (which means visitor lands on your site by clicking that banner/link). For this type of commission you should be aware of fraud clicks.
CPM (cost per mille) commissions
reward for one thousand banner impression. It means that when your banner gets displayed 1000 times on an affiliate's page, he'll get a fixed commission.


If you have activated the Commission groups feature, you'll see another tab called Commission groups.
It allows you to create another commission groups, and assign affiliates to them. So the default per sale commission in your campaign will be 20%, but your VIP affiliates will get 30%.