Enabling cookies can be necessary if you are using any cloud hosted software.
So how do I enable cookies in different browsers?
Enable cookies CHROME
To enable or chrome cookies follow these steps:
Open your chrome browser and in menu choose SETTINGS.
Go on the bottom of the settings page and click on Show Advanced Settings.
Search for a PRIVACY section and then click on the Content settings button
Select Allow local data to be set. They are marked as recommended. Then click on Done.
Restart Chrome.

Enable cookies SAFARI
Safari blocks third party cookies by default. To enable cookie follow steps bellow:
Open your Safari browser and in upper menu choose Safari.
In Safari menu click on Settings.
Search for a PRIVACY section and then click on the Content settings button
Now you can choose what cookies you would like to enable. The safest way is to enable cookies from sites you have visited.
Restart Safari.

Enable cookies FIREFOX
Here is a step-by-step manual how to turn on cookies in Firefox:
Open Firefox browser and in menu choose Preferences.
In preferences search for Privacy tab.
Search for a PRIVACY section and then look for History section.
In a Firefox will: change remember history to Use custom settings. This opens more settings to change.
Find a checkbox Accept cookies from sites and choose it. Under the checkbox are also additional settings. Safest is to choose in Accept third-party cookies to choose From visited.
Restart Firefox.

Enable cookies INTERNET EXPLORER
Select gear icon located in upper-right corner of the browser.
Choose Internet Options.
Search for the Privacy tab and choose it. Here click on Advanced
Check both accept cookies checkboxes.
Restart Internet Explorer.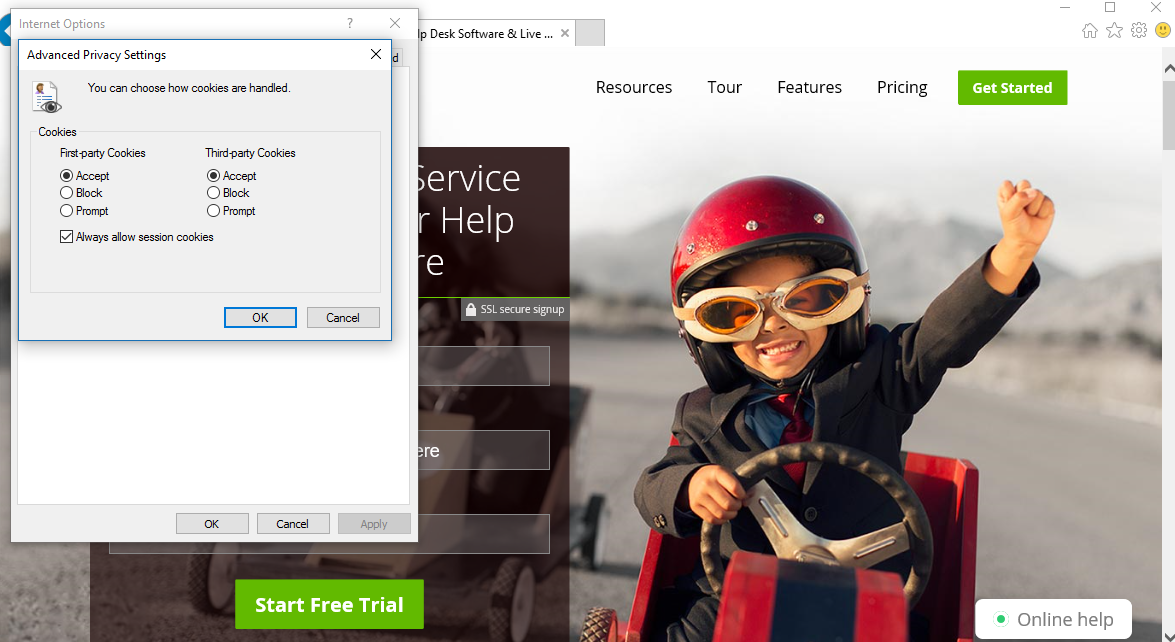 Enable cookies EDGE
Open the Microsoft Edge.
Click on the More actions button on the toolbar, and select Settings.
Search for View advanced settings and click on it
Under Cookies section, select to either Don't block cookies (default), Block only third party cookies.
Restart Edge
Enable cookies OPERA
Allowing cookies in Opera is very easy:
Open Opera browser and go to Browser Settings.
In settings choose Privacy & security tab.
Scroll down to Cookies section and choose checkbox Allow local data to be set (recommended)
Restart Opera.