The languages tab in your Languages and regional settings menu allows you to:
Import/export language files
This functionality allows you to
import one of the available language translations or export already imported languages into a csv file
. Import/export functionality is described in detail in it's own article
here
.
Create new languages
A new language can be created by simply clicking on the
Create your own language
button. This will open an new window where you will be asked to define language metadata such as language name, author,
language code
, and default time date and number format that will be used for this language. Detailed info about date and time formats can be found in this
guide
. After you define language metadata click on
Create language
button to create your own language in your
Post Affiliate Pro
software.
NOTE:
This newly created language doesn't contain any translations by default so you will have to edit your new language file and add translations to it. Please continue with this
guide
.
Delete languages
To delete language files from your Post Affiliate Pro simply
check the box
in front of the language file that you want to delete and click
Delete language
button.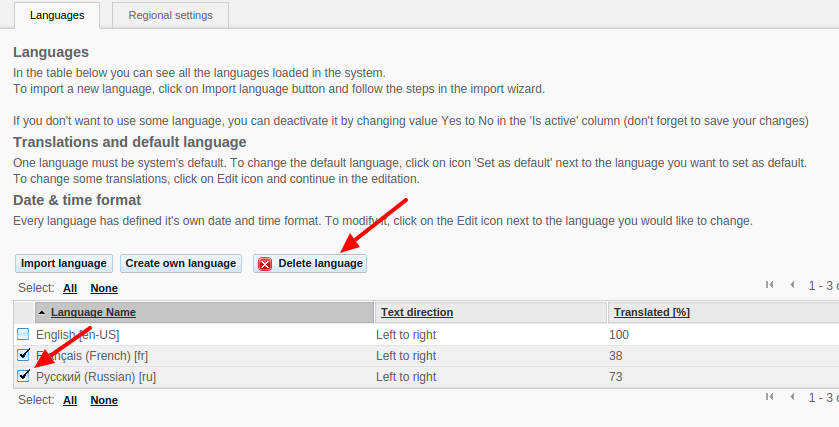 Activate/deactivate languages
Activating/deactivating language files is used when you want to
disable specific language in your Post Affiliate Pro without actually deleting the language file permanently
.
To activate/deactivate language file simply click on the value in the column
Is active.
After you change the value of this field click on
Save modified rows
button under the language list to save the changes.

Set default language
To set one of your active languages as default language in your Post Affiliate Pro software simply click on
Set as default
button in the
Actions
column.

Only imported and active languages can be set as default. You also can not have more than one language set as default at the same time.
Default language is the language that is selected by default on the affiliate/merchant panel login screen
.
Edit language
To
edit language metadata and translations
of your language file simply click on the
Edit
button in the actions column.
How to add or edit specific language translations is explained in separate guide
here
.