This article shows you:
---
If affiliates want to have more or less detailed
reports
displayed (columns) there is an option

available in the right upper corner of every chart.
Edit View window gives the opportunity to display/hide transaction details visible in the displayed report. Create your own name, choose between the columns, hit "Save As New View".

Then when you created more views, you can choose between them easily.
Merchant can also decide about the affiliate panel menu content. The content includes sections where affiliates could have access to any kind of reports, features, profile configuration, etc.
If you want to see what sections you can decide about, go to Configuration -> Affiliate panel -> Menu & screens
In Menu & screens you can find two parts:
1) Affiliate panel menu (left side) - through this menu you can modify already added sections of the affiliate menu by dragging them. You can create a max 2 level menu. Items can be removed by dragging them to the trash.
2) Affiliate panel screens (right side) - here you can add already created sections with their own design, content, and configuration. Furthermore, you can add your new custom/URL page which means here your affiliates can find any information you want to provide them with.
Each section which contains a grid (Subaffiliates sales, Top referrer URL, Channel stats report, Sub-affiliate Sale Stats, Commissions, Raw Clicks, Payouts to me) has its own view (number of displayed columns, type, etc...). And this gives you an option to edit it and set based on your requirements. Look at the sections under Affiliate panel screens and click on the "Edit" button
and decide about the default view and allowed transaction data types.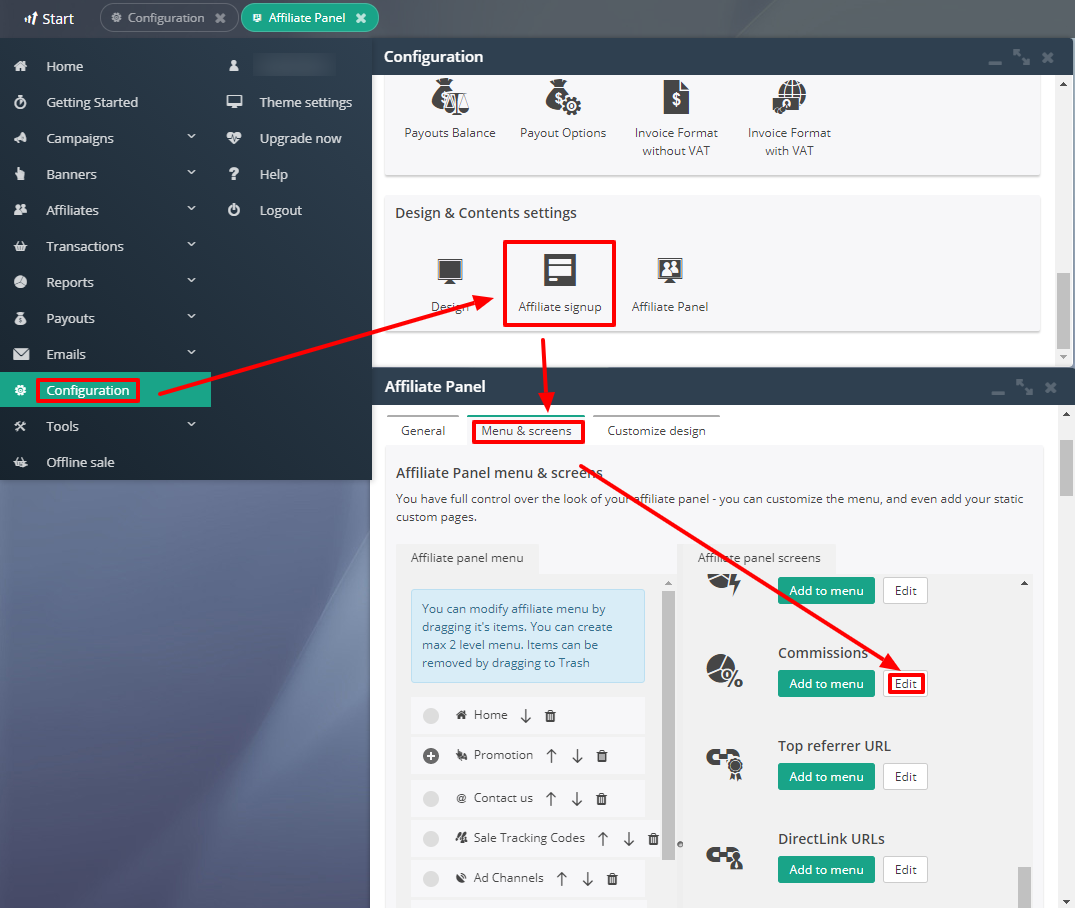 The "edit window" gives you an option to set default and allowed view.
The default view gives your affiliate the view that can't be saved with other columns if those weren't approved by the merchant (merchant didn't check them). This view contains the same columns for all affiliates in the system. You can change it temporarily, but not save it.
The allowed view gives your affiliate independence regarding creating their own views which can contain only checked transaction columns (grid cells). So if you don't want your affiliates to add Total Cost information about transactions, remove the Total Cost column.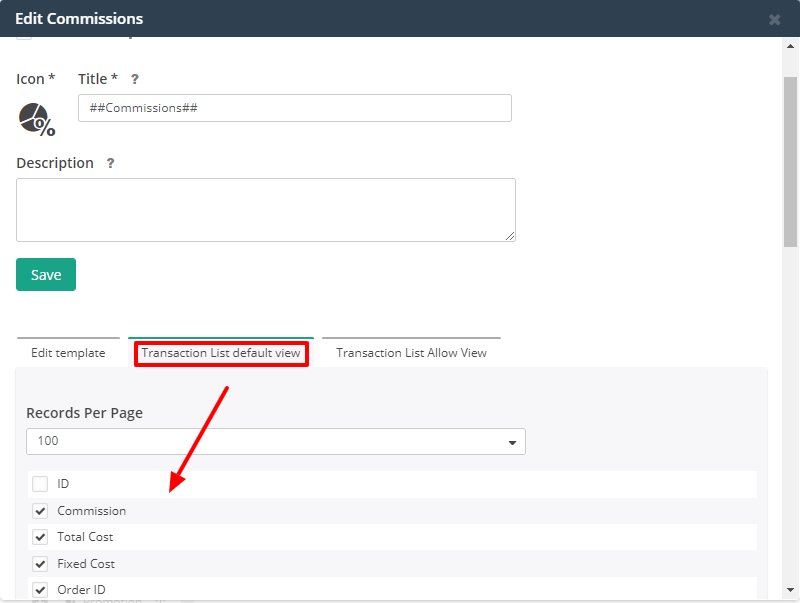 If you do not want to allow affiliates to change the default views in their grids at all,
visit this page
.
Don't forget to click 'Save' at the bottom.