Sometimes repeating transactions can occur when a customer refreshes the web page that contains click or sale
tracking
code.
Post Affiliate Pro
offers you a tool that will recognize these fraud transactions - Fraud Protection.
You can find it in the merchant panel at
Configuration > Fraud protection
Fraud protection in Post Affiliate Pro allows to control multiple actions, just like::
- decline or not save multiple clicks/sales from same IP address in X seconds
- decline or not save multiple signups from the same IP address in X seconds
- decline or not save duplicate orders with same Order ID in X hours (You also can apply this rule to orders with empty Order ID)
- blacklist IP or even country the transaction is coming from
- allow or ban URLs (based on HTTP_REFERRER) from which clicks/sales are supposed to come from
Instead of X you can set your own number of seconds/hours and you can choose if these transaction will be declined or not saved at all.
All info is divided into tabs, so you can easily find click settings, sale settings and signup settings.
Blacklisting offers you more flexibility on setting who will be allowed to signup or to create a transaction. To blacklist (ban) an IP you can simply add the IP address you want to ban. If there are more IPs for ban, you can insert them all comma-separated. You can even use wildcards, so if you want to blacklist all IPs from 80.90.100.0 to 80.90.100.255 you can use * so the result is 80.90.100.*.
To blacklist the country, you have to put the country code e.g. GB, NL, US, CZ, SK ... This is ISO 2-alpha code. List of codes can be found e.g. here:
http://en.wikipedia.org/wiki/ISO_3166-1_alpha-2#GU
Fraud protection against clicks: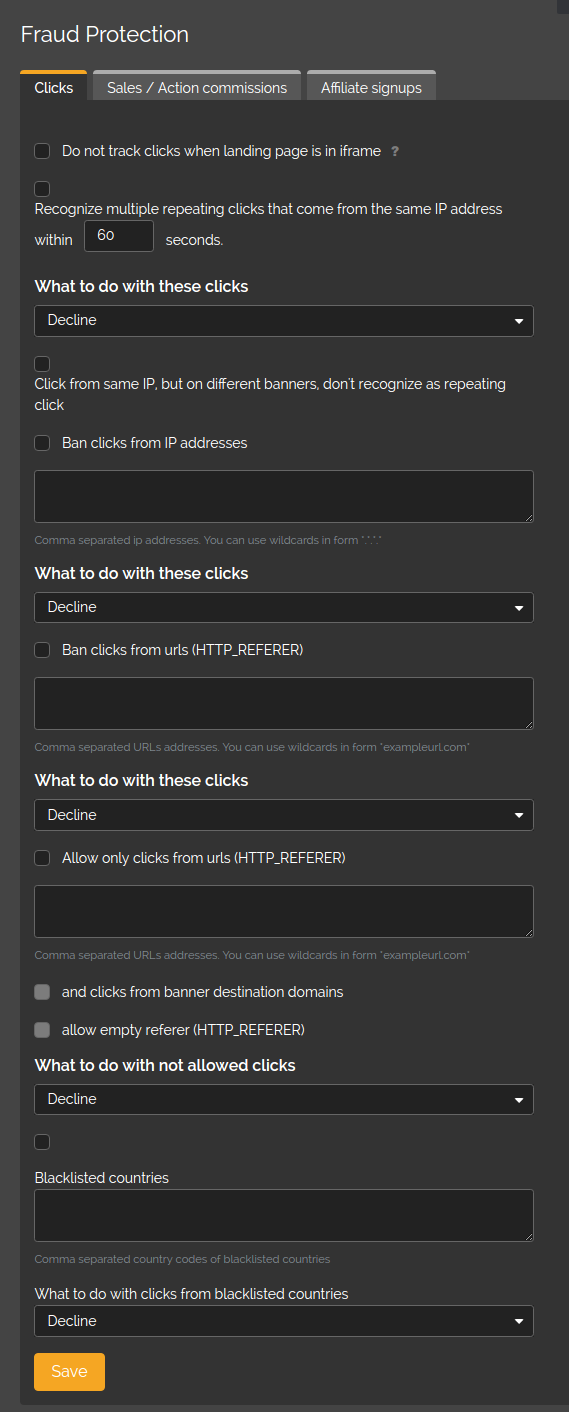 Fraud protection against sales:

Fraud protection against sign-ups: