When you are testing the sale/lead tracking of your Post Affiliate Pro (Network), then it is more effective to see only the essential logs concerned with the sale/lead tracking.
In Post Affiliate Pro (Network) from version 5.x.x.x at Tools > Event logs you can choose from the 'search in' drop-down menu the "Sale debug" filter. That way you see only the sale/lead-related logs.
In case of an earlier version of Post Affiliate Pro (network) at Tools > Event Logs you may click the 'Advanced search' link and it will show more options. One of them will be "
Add a Custom Filter Field
"
By clicking that link you can add several custom filter fields. Add the following ones: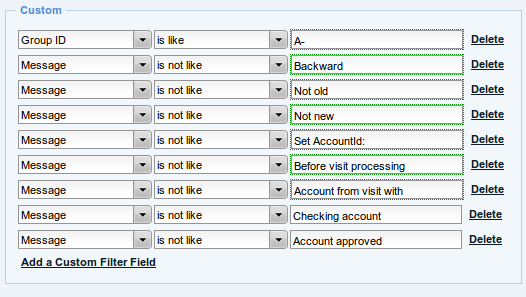 after that, click the "Save Filter" link and save your filter. From this time on, you can choose this filter anytime at Tools > Event logs from the top-left drop-menu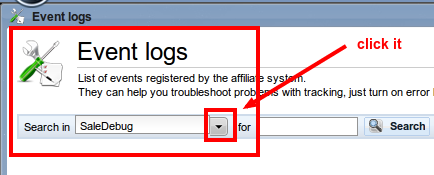 and that way you can read only the essential logs. It will save a lot of time of yours.
If you want to see the logs of a particular order that has been tracked by Post Affiliate Pro, then you can view the exact logs concerned only with the particular order directly at Transactions > Commissions by enabling the 'Log group' in the 'Edit view' section (above the grid listing the transactions) and clicking the magnifier icon that will appear next to the particular 'Log group' number in the 'Log group' column.