You can force your affiliates to accept Terms & Conditions when they are signing up to your affiliate program by navigating to Configuration > Affiliate Signup > General tab, and checking the checkbox "Force acceptance of T & C". Once it's enabled new affiliates have to agree with your terms & conditions, otherwise they will not be able to finish their registration.
But as your Terms & Conditions might change over time, your affiliates may not notice it. If you need to make sure that all your affiliates have seen your new updated Terms & Conditions, you can force affiliates to accept T & C every time you'll update them. To do that, navigate to Configuration > Affiliate Signup > General tab, update your T & C in the "Affiliate program Terms & Conditions" field, check the checkbox "Require new agreement to Terms & Conditions", and hit the Save button at the bottom of the page.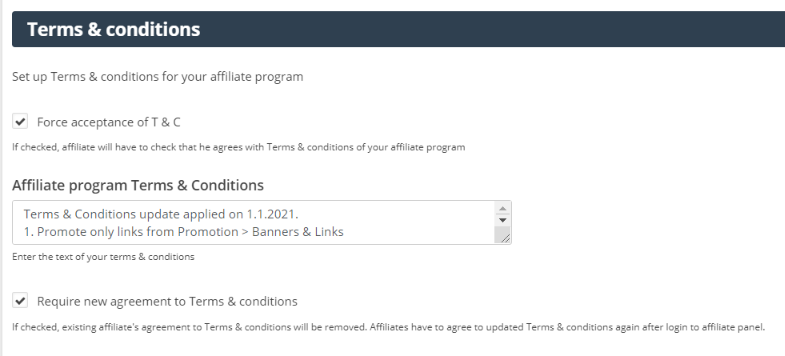 Note that when you log in next time to your merchant panel, the checkbox to force affiliates to agree with new terms & conditions will be unchecked again. It is correct behavior because each time you'll check this checkbox and hit Save, a new notification to accept new T & C will be sent to your affiliates.
The next time an affiliate logs in to his/her affiliate panel, he/she will have two options. Either agree with the new Terms & Conditions or log out from the affiliate panel. That means the affiliate will not be able to access and use their affiliate panel without accepting new Terms & Conditions.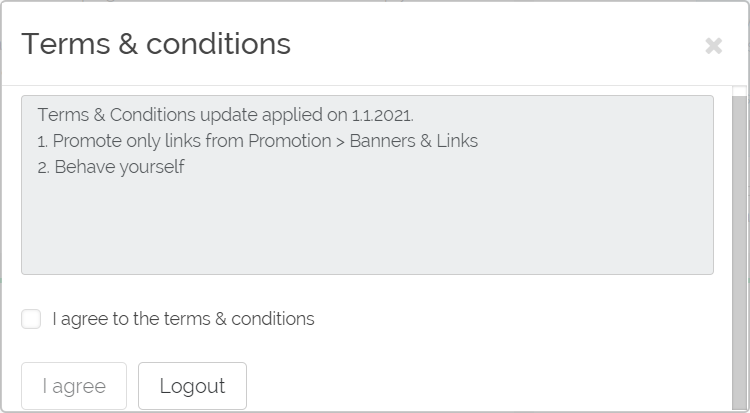 Bonus tip
You are also able to check which affiliates have already agreed with your current Terms & Conditions by navigating to Affiliates > Affiliates Manager, and editing your affiliates' grid view to display the column "Agree to terms".