Post Affiliate Pro can be divided into these parts:
Merchant (admin) panel
It is the panel for the merchant (or administrator, affiliate manager). Here you can configure your campaigns, set up commissions, add banners and control everything else.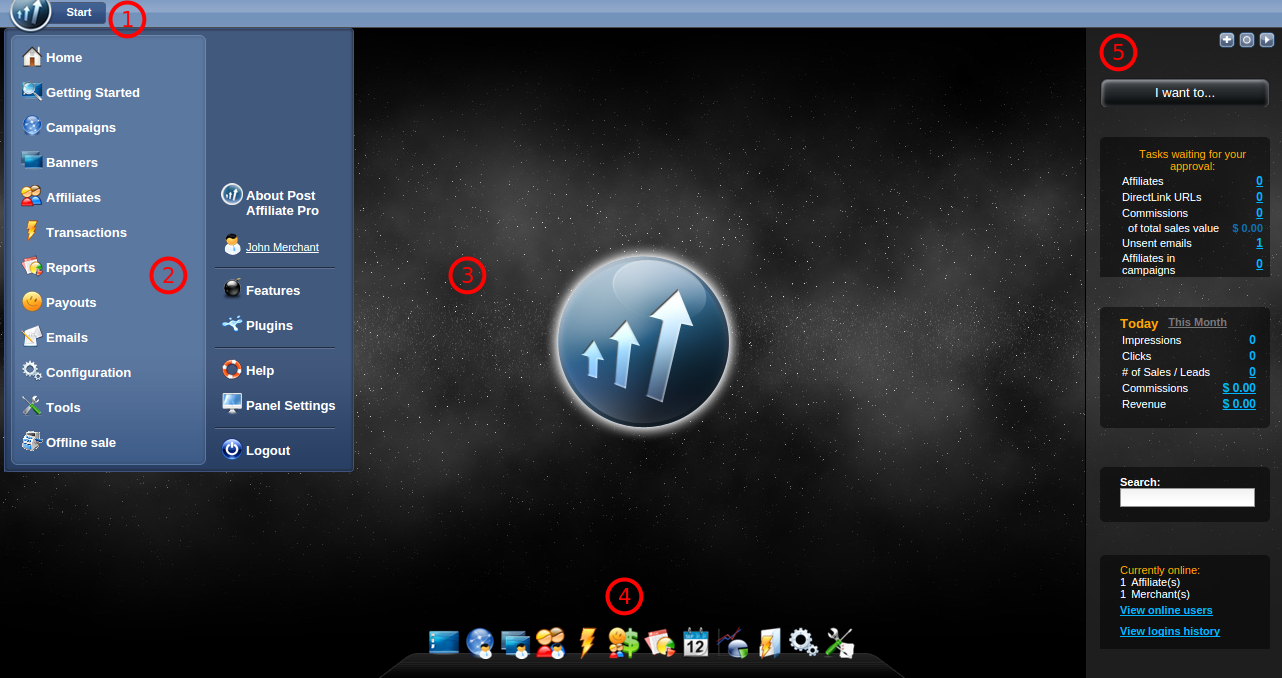 The theme on the picture above is called 'Blue Aero'. It is a theme where the panel looks like a standard application run in the browser.
The desktop contains:
Start button to display the menu
Menu that contains all the system functionality
Desktop area where all settings and data are displayed
Quicklaunch menu (customizable) with icons of most used screens
Sidebar where you can place gadget (only on Blue Aero theme)
Check the video tour about Blue Aero theme:
It is possible to change the theme of your panel, you can do it in the Panel settings menu item after the login.
Menu of merchant panel is divided into the following sections:
Getting started - here you can see useful links when you are starting with Post Affiliate Pro
Campaigns – here you manage your campaigns
Banners – here you manage your banners
Affiliates – here you can manage your affiliates
Transactions – list of clicks and commissions
Reports – various system reports
Payouts – manage the affiliate payouts here
Emails – send emails to affiliates
Configuration - system setting of the best affiliate software
Tools – other system tools
Check the video tour from merchant panel:
Affiliate panel
Control panel of your affiliates. Every affiliate will get access to his control panel after signup. There he can see his statistics, get banners to promote your products, or get training materials.
Affiliate panel is fully customizable by the merchant. You can define which screens and
menu items
should be visible to affiliates, even
add your own pages
. You can also
change the theme
used for the affiliate panel.

Check the video tour from affiliate panel:

Affiliate program mini site
It is optional, but useful part of your affiliate program. This is where the visitors get when they are not yet logged to their panel. This mini-site could contain few pages with description of your affiliate program for visitors interested to become your affiliates. It should be something similar to sales page, with the difference that you are "selling" them to your affiliate program.
You should mention how big commissions they can earn, conditions of your program, you can add FAQ page. Affiliate mini site is completely customizable and you can easily change its content.

Signup form
It is the form where visitor can sign up and apply to be your affiliate. Again, it is fully customizable by merchant, you can also define which fields (information about affiliate) should be displayed.
Signup form can be a part of affiliate mini-site, but it works also without it.
Test your affiliate software
If you want to check examples how to setup banners, sales and tracking onto your web page and test the PAP performance, go to Samples & test page. You would find it in your installation under https://URLtoPostAffiliatePro/samples_tests/
Continue to the next step of setting - 2. Brainstorming